Hosting a virtual Christmas party in 2021 is going to be a popular option for many businesses.
With physical events back in full swing, you'd be forgiven for thinking that online celebrations will be left in 2020. There are many reasons that virtual Christmas parties will be popular this year including:
Remote employees – Working from home full time and hiring talent from elsewhere in the country are becoming commonplace practice in many companies.
Cost – Many businesses won't be able to afford a big Christmas party in 2021 as they recover from the economic effects of the pandemic. Virtual parties are a cheaper alternative.
Uncertainty – The pandemic is still ongoing and we don't know for sure what's around the corner. Many people are still cautious about being 'back to normal' so soon.
Here, we will show you 7 virtual Christmas party alternatives that are perfect for 2021's fast approaching festivities.
1. Conference Call Drinks
Opening the doors of a virtual pub for lots of laughs and plenty of drinks is an easy but effective way for everyone to let their hair down. Simply fire up the video-calling software, round up your employees in their respective homes, and prepare yourself a drink or two. It's a great way to get everyone chatting away, and if you're concerned about your resident chatterboxes dominating the conversation, feel free to add in activities like popular drinking games, online board games and roundtable talking points. If you really want your workers to remember their virtual Christmas party, make fancy dress mandatory.
There's just one rule; no work talk!
2. Awards Ceremony
Are you bursting with pride at how your team has performed this year? Try rolling out the red carpet for a virtual awards ceremony. Recognition is a powerful tool in making employees feel valued for their contributions in the workplace. It's an important feeling that will go a long, long way in keeping people motivated.
Create a bunch of awards specific to your team and present them to your employees. Our favourites are 'Work From Home Superstar', 'Moral Booster' and 'Creative Mastermind'. You can publish the categories beforehand to generate excitement, and even let your team vote for their own winners if you wish. Alternatively, you can take a stroll down comical street by creating more ludicrous awards like 'Pen Stealer', 'Worst Brew Maker' and 'Most Easily Distracted' to playfully poke fun with colleagues. Check out TalentLyft's 20 funny awards ideas for more inspiration!
3. Online Secret Santa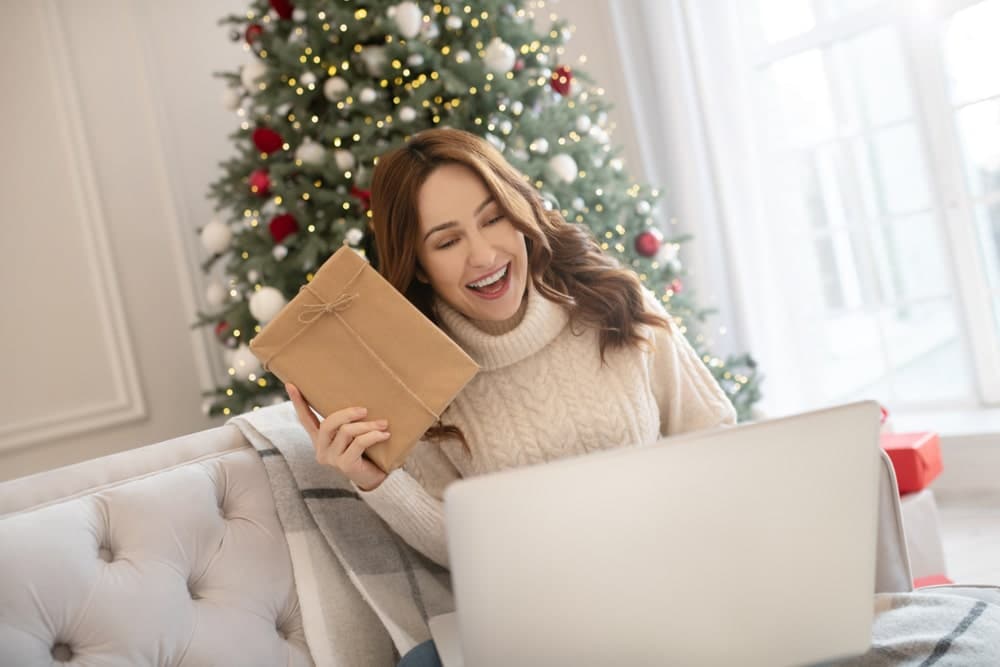 Who doesn't like receiving gifts? You can keep the office Secret Santa tradition alive virtually using a tool like Draw Names to randomly match gift givers to receivers.
All you need to do is enter your employees' names and send them invitations via email, WhatsApp or Messenger. Once they click the email, they'll be assigned their person to buy for. Specify a strict deadline to allow plenty of time for everyone to buy, wrap, send and receive their presents. You should also set a reasonable budget that won't break the bank for anyone. Then watch in wonder (or horror) as each person takes it in turn to unwrap their presents live on your video call.
4. Video Call Karaoke
Do you consider your team a rowdy bunch, unafraid of having an uncontrollably good time, even if it means suffering from mild embarrassment? If answered 'yes', you'll love virtual karaoke.
There are two easy ways you can do this. Get onto YouTube and find a karaoke or lyrics version of your chosen song. Or, use online software like Lucky Voice, which will act as your very own karaoke machine. Beware, however, the novelty can quickly wear off when sat in front of a computer screen with all eyes on you. So keep it short, snappy and exciting by only singing the first verse and chorus. Then move onto the next performer. You might not discover the next Taylor Swift, but you're guaranteed to have a few belly laughs!
5. Escape Rooms
If you think an immersive, puzzle-solving experience that requires teamwork, logical thinking and imagination sounds like something your team would enjoy, a virtual escape room might be the ideal activity for your virtual Christmas party celebrations.
After surging in popularity in recent years, you'll be glad to hear they've gone virtual, and in doing so have become an exhilarating Christmas party alternative. They're perfect for smaller teams seeking a thrilling challenge. From attending Hogwarts to entering the heart of a CSI-themed murder investigation, there are many types of escape rooms you can play. Check out The Independent's best virtual escape rooms list to find the perfect experience for your team!
6. Cooking Masterclass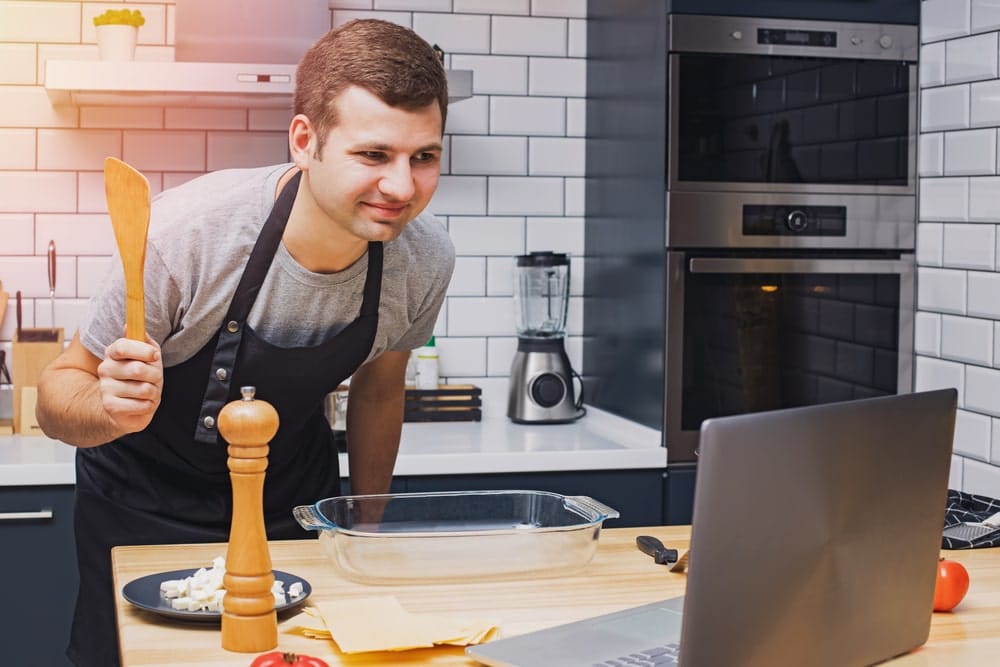 Is your business full of foodies, whose ideal end-of-year celebration would be sitting down to a mouth-watering feast? If so, a virtual Christmas party without stuffing your face just won't cut it.
Instead, satisfy everyone's tastebuds with a virtual cook-along. Hire a chef to join your video party and host their own cooking class. Your employees can then make their own (maybe restaurant quality) banquet without having to leave the house. Just remember to make sure that you pick a meal everyone will enjoy and is able to eat, as well as inform everyone in advance of the ingredients they need to source.
7. Virtual Smartphone Quiz
You're probably very familiar with virtual quizzes. Every man, woman and dog were hosting quizzes in 2020. After all, what else were we supposed to do? Actually speak to the people we live with?! What you should consider, however, is a smartphone quiz. Using your mobile phone to answer questions instead of old-fashioned pen and paper creates a wildly different quiz night.
Here at KwizzBit, we've created a speed-based quiz platform that rewards players with more points for faster answers. Not only does it create an exciting, fast-paced and very competitive experience, it also stops people from Googling the answers. KwizzBit is a simple login and play system, which connects the player's devices to a host's account via a unique pin code. It works in real-time alongside any video chat platform. Also, it calculates scores automatically and instantly generates leaderboards, so you don't have to. It's a 21st century take on a classic British pastime!
Hosting a virtual Christmas party in 2021 isn't going to be for everyone. The majority of people will be happy to see the return of in-person celebrations. However, if you've got remote working employees, dealing with small budgets or you're uncertain whether it's the right time to get everyone together, then the alternative could be going virtual.
If you're interested in a smartphone quiz for your online Christmas celebrations, see our guide on how to run a virtual quiz or check out how KwizzBit works.